Mostly up-to-date list of whiskey bottles I have
Published by root on Friday, May 8, 2020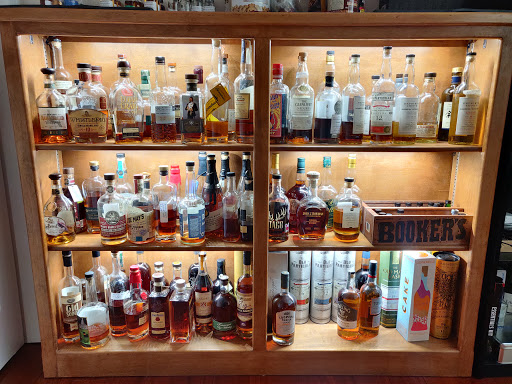 The format is: Distillery — Age — Notes
Notes:
Any Store Pick (SP) is likely to be single cask and/or cask strength.
Most of the SP bottles will have bottler's name if appropriate, I'll skip the minutiae of cask numbers.
I'll underline bottles that are of interest to me
Where available: XBC — Bourbon Cask. SHC — Sherry Cask.
Open Bottles
Open Malt:
Balblair — 15 — Regular Release, SHC — Needs Review
Balvenie — 14 — Caribbean (Rum) Cask, Bottled 2016
Benromach — 11 — Cask Strength Batch 1, Bottled in 2018, Peat
Blue Spot — 7+ — 2020 Release, Irish Whiskey
Cameronbridge Single Grain — 27 — K&L SP, Old Particular, Bottled 2019, Refill SHC
Glen Garioch — 10 — K&L SP, Old Particular, Bottled 2020, XBC
Glenallachie — 19 — Hart Brothers, Bottled in 2015, 700ml, SHC
Glenfiddich — 21 — First Edition SiB, Tea-spooned, Bottled in 2018, XBC
Glentauchers — 10 — K&L SP, Sovereign, Bottled 2021, Wine Barrel
Highland Park — 13 — Cask #6481 (Victory), Peat, SHC
Kirkland Speyside — 22 — Bottled 2020, SHC — Needs Review
Lagavulin — 16 — Peat, Regular
Laphroaig — N/A — Heavy Peat, Cairdeas Triple Wood, 2019
Linkwood — 13 — K&L SP, Redacted Bros, Bottled 2021, Oak Cask — Needs Review
Loch Lomond — 12 — Regular
Kavalan — ~8 — SFWBSS Pick, Golden Gate Sunset, SHC
MacDuff — 14 — Cooper's Choice, Bottled 2018, 1st fill SHC
MacDuff — 20 — Trader Joe's SP/Alexander Murray Single Cask, XBC
Ohishi — 7 — Rice Whiskey, SCWC/K&L SP, Madeira Cask Finish
Rogue — 7 — SFWBSS SiB, Cabernet Franc Wine Cask

Speymhor Blended — 38 — Blend of two barrels from 1978, XBC + SHC

Stranahan's — 8 — Experimental Series #3, Carcavelos (White Port) Cask
Tamdhu — 19 — K&L SP, Old Malt Cask, Bottled 2018, XBC
Westland Single Malt — ~3 — Cask #430, Heavy Peat, First fill XBC
Westland Single Malt — ~3 — Cask #3240, Heavy Peat, First fill XBC
Westland Single Malt — ~4.5-5 — Silver City Cask Exchange, Beer Cask
Open Bourbon Whiskey:
1792/Barton (Trader Joe's) — N/A — Full Proof (62.5%), Trader Joe's Private Label
Angel's Envy — N/A — Total Wine SP, Bottled 2021
Bookers — 6.5 — 2022-02 Tagalong Batch
George Dickel Single Cask — ~15 — K&L SP, Bottled 2019
Eagle Rare — 10 — Eureka SP
Elijah Craig Barrel Proof — 12 — Batch B520
Elijah Craig Barrel Proof — 12 — Batch A121
Henry McKenna — 10 — Single Barrel, BiB, Barrel 4419, 12-20-2007
John J. Bowman Bourbon — N/A — Single Barrel, 100 proof
Knob Creek — 15 — K&L SP, Distilled 2004
Larceny Barrel Proof — ~6 — Batch C921 — Needs Review

Little Book Chap 3 — N/A — The Road Home

Maker's Mark — N/A — 2019 RC6, Limited
New Riff — ~4.5 — Royal Liquors SP, #7264
NULU — 5 — Butcher & Booze SP. (MGP)
Old Forester — N/A — SFWBSS Pick, 128.0 Proof
Remus Repeal Reserve V — 12+ — Blend of 12+ year old MGP
Saint's Alley — N/A — Batch 2; Port & Cognac finish, blend of MGP & Ironroot Harbinger
Smoke Wagon — N/A — Unfiltered/Uncut (MGP)
Smooth Ambler "Old Scout" — 5 — Prav Saraff SP + K&L SP, #23858 (MGP)
Spirit Works Straight Wheat — 5+ — Eureka Private Barrel
Stagg Jr — N/A — Batch 14
Weller Full Proof — 6.5 — PlumpJack 3 Barrel Blend
Wild Turkey Kentucky Spirit — 9 — Eureka SP
Open Rye:
Domaine des Hautes Glaces — ~5 — French 100% Malted Rye — https://www.klwines.com/p/i?i=1515177
High West Double Rye — N/A — Eureka SP, Batch # 18422, Amontillado Casks
Masterson's — 10 — Batch PSH4, Hungarian Oak
Old Pepper Rye — N/A — PX Finish, Hard Water/Ledger's SP, Bottled 2018
Old Potrero Straight Rye — N/A — Total Wine SP, Possibly: Aug 1 2012, Cask #18
Whistlepig Single Barrel Rye — 17.5 — KnL SP, Swine Merchants. #20209
Willett Estate Rye — 4 — Proof 107.6, Bottled 2019
Wright & Brown Rye — N/A — Batch 003
Open Other (incomplete by design):
Baron De Lustrac — 33 — Cepage Bacco, Bas-Armagnac, Distilled 1980.
CR&FTWERK Brandy — N/A — Copper & Kings; finished in Stout Casks
Decourtet — VS — Cognac
Foursquare (Doorly's) Rum — 12 — Total Wine-Labeled, 43%
Literal box of Rums: https://www.aerin.or … y:entry220616-210927
Closed Bottles
Malts:
Aberlour A'Bunadh — N/A — Batch #69
Allt-A-Bhainne — 23 — K&L SP, Old Particular, Bottled 2019, XBC
Ardmore — 21 — K&L SP, Old Malt Cask, Peated. Bottled 2018, XBC

Arran, Lochranza Castle — 21 — Explorers Series Vol. 2, SHC

Arran — 10 — Master of Distilling 1, XBC
Auchentoshan — 21 — Berrys' SP, Bottled 2016, XBC
Auchroisk — 25 — K&L SP, Old Particular, Bottled 2019, XBC
Auchroisk — 19 — Trader Joe's SP/Alexander Murray, XBC
Balblair — 13 — K&L SP, 2006 Vintage, SHC

Balvenie — 26 — Spooned Balvenie, K&L SP, Hepburn's Choice, Bottled 2018, XBC

Balvenie — 28 — Spooned Balvenie, K&L SP, Hepburn's Choice, Bottled 2020, XBC

Ben Nevis — 18 — K&L SP, Old Particular, Bottled 2019, XBC
Benriach — 15 — Port Cask, K&L SP, Hart Brothers, Bottled 2021
Benriach — 21 — Rum Cask, K&L SP, Chieftain's, Bottled 2019
Benrinnes — 15 — K&L SP, Old Particular, Bottled 2019, XBC

Bimber — N/A — K&L SP, Cask 45, Bottled 2020, SHC

Blair Athol — 12 — K&L SP, Sovereign, Bottled 2021, SHC
Blair Athol — 23 — K&L SP, Old Malt Cask, Bottled 2018, SHC

Bunnahabhain — 30 — K&L SP, Old Particular, Bottled 2018, SHC

Cambus Single Grain — 35 — K&L SP, Old Particular, Bottled 2018, XBC

Clynelish — 23 — K&L SP, Signatory, Bottled 2019, SHC

Clynelish — 14 — K&L SP, Gordon & MacPhail, Connoisseur's Choice, Bottled 2021, SHC

— https://www.klwines.com/p/i?i=1543567
Courage & Conviction — 5 — American Single Malt, K&L SP, Cask #1275
Craigellachie — 16 — K&L SP, Old Particular, Bottled 2019, SHC
Craigellachie — 21 — K&L SP, Distiller's Art, Bottled 2017, SHC
Dailuaine — 12 — K&L SP, Old Malt Cask, Bottled 2018, SHC
Dailuaine — 22 — K&L SP, Spooned Old Malt Cask, Archiestown Adjacent, Bottled 2020, XBC
Fukano "Amabie" — N/A — Rice Whiskey, SCWC/K&L SP Single Manzanilla Sherry Butt #MS326
Glen Keith — 24 — The Munros, XBC
Glen Moray — 23 — K&L SP, Old Malt Cask, Bottled 2018, XBC
Glen Ord — 8 — K&L SP, Hart Brothers, Bottled 2021, SHC
Glenallachie — 10 — Batch 5, Cask Strength, SHC

Glenfiddich — 23 — K&L SP, Tea-spooned, Hepburn's Choice, Bottled 2020, SHC

Glenfarclas — 28 — K&L SP, Spooned, Hepburn's Choice, Bottled 2020, XBC
Glengoyne — 21 — K&L SP, Old Malt Cask, Bottled 2018, XBC

Glenlivet — 19 — K&L SP, Signatory, Bottled 2015, SHC

Glenlivet — 14 — K&L SP, Signatory Vintage, Bottled 2021, SHC (Splitting with friend)
Glenmorangie — N/A — "A Tale of Cake", Tokaji Dessert Cask
Glenrothes — 12 — K&L SP, Old Malt Cask, Bottled 2018, SHC
Glenrothes — 16 — K&L SP, Old Particular, Bottled 2021, SHC
Glenrothes 1985 — 20 — Bottled 2005, SHC
Glenturret — 17 — K&L SP, Old Particular, Bottled 2021, SHC
Glenturret — 28 — K&L SP, Old Particular, Bottled 2016, XBC
Inchgower — 22 — K&L SP, Sovereign, Bottled 2021, SHC
Hibiki — N/A — Japanese Harmony
Invergordon Single Grain — 31 — K&L SP, Sovereign, Bottled 2018, XBC
Kavalan Solist — 9 — Distilled 09-11-2009 and bottled 05-22-2018, Port Cask
Kavalan Solist — 8 — Distilled 2008 and bottled 2016, Bourbon Cask Gift Set
Linkwood — 11 — K&L SP, Signatory, Bottled 2021, Charred Wine Hogshead
Linkwood — 27 — K&L SP, Spooned Old Malt Cask, Bottled 2020, XBC
MacDuff — 21 — K&L SP, Hepburn's Choice, Bottled 2018, XBC
Mortlach — 15 — Game of Thrones, Six Kingdoms Edition (SHC+XBC)

Mortlach — 12 — K&L SP, Sovereign, Bottled 2021, Smoky SHC

Nikka from the Barrel — N/A — Regular

Port Dundas Single Grain — 28 — K&L SP, Sovereign, Bottled 2018, XBC

Strathclyde Single Grain — 30 — K&L SP, Old Particular, Bottled 2018, XBC
Teeling — 14 — Carcavelos Cask (White Port) Single Malt, Bottled 2016
Thompson (Redacted) Bros — 19 — Thompson/Dornoch Blend, Distilled 2001, 700ml; SHC

Westland Single Malt — 5.5 — Cask #2631, 1st Fill Oloroso SHC. Bottled 2020, Hand-filled

Westland Single Malt — ~4.5-5 — Garryana 5th Edition, Slightly Peated, New Oak
Westland Single Malt — ~4.5-5 — Holy Mountain Cask Exchange, Beer Casks
Bourbons or Whiskey:
1792/Barton — N/A — Full Proof, Eureka SP. Cask #6469

Barrel Bourbon — 10+ — Batch 21

Barrell Bourbon — 18 — K&L SP, Single Barrel, A111
Barrell Dovetail 2019 — N/A — Rum, Port & Cabernet Finish
Buffalo Trace — 8 — Plumpjack SP #038
Eagle Rare — 10 — Eureka SP
E.H. Taylor Small Batch — N/A — BiB (x2)
Elijah Craig Private Barrel — 10 — K&L SP, Cask #6093846, 64.10%
Four Roses Barrel Proof — 12 — K&L SP, OESF
Four Roses Barrel Proof — 9.9 — Elixir & SFWBSS SP, OBSK
Frey Ranch — ~4 — SFWBSS Pick, Barrel #777.
George Dickel Single Cask — 15 — K&L SP, 101.2 Proof. Cask #1559 Bottled 2022 https://www.klwines.com/p/i?i=1598005

George T. Stagg — N/A — BTAC 2019

High West Campfire — ~2 — Carcavelos (White Port) Cask, K&L SP
Knob Creek Single Barrel — 15 — K&L SP, Bottled 2020
Pinhook — 3+ — High Proof Edition
Prideful Goat (Heaven Hill) — 15 — Private cask bottling
Remus Repeal Reserve V — 12+ — Blend of 12+ year old MGP
Russell's Reserve — ~10 — Hard Water/Ledger's SP, Rickhouse H

Shenk's — N/A — Batch 20F1428

Smoke Wagon — 8 — K&L SP #314 (MGP)

Stagg Jr — N/A — Batch 13

Stagg Jr — N/A — Batch 15 (65.55%)

Stellum Bourbon — N/A — Regular
W.B. Saffell — N/A — Batch 1
Weller 107/Antique — N/A — Regular (x2)
Weller 107/Antique — N/A — California Food Mart SP
Woodinville SiB — N/A — Hi Times SP, Cask Strength
Rye:
E.H. Taylor Straight Rye — N/A — BiB
Laws Straight Rye — ~7 — K&L SP, #504, Malted Rye

Old Potrero "Barrel #13" Rye — ~7 — K&L SP

Smooth Ambler Old Scout Rye — 4 — 121.6 proof. Single Barrel MGP
Wilderness Trail — 4 — Eureka SP
Others of Note:
Domaine de Pouchegu 1981– 39 — Armagnac, K&L SP, https://www.klwines.com/p/i?i=1501919
Domaine de Pouchegu 1982 — 40 — Armagnac, K&L SP, https://www.klwines.com/p/i?i=1598061
Foursquare Rum — 12 — 2009; Exceptional Cask Series XVII
Foursquare Rum — 12 — Sovereignty; Exceptional Cask Series XIX
Pellehaut — 30 — Armagnac K&L SP, Bottled 2016
—
Top Lists
Top Malt:
Top Bourbon/Rye Whiskey:
Booker's 2018-01 Kathleen's Batch and 2021-02 Tagalong
Old Carter American Whiskey 12, Batch 3
Old Rip Van Winkle (Pappy 10)
Old Potrero "Barrel #13" Rye K&L SP
George T. Stagg 2019
Parker's Heritage Collection 2020
Stagg Jr Batch 13 (but I hear Batches 10+ are all good)
Shenks 2020
Untitled 14 yr MGP 72.5% Private Cask #13 Prav Saraff Pick