Mostly up-to-date list of whiskey bottles I have
Published by root on Friday, May 8, 2020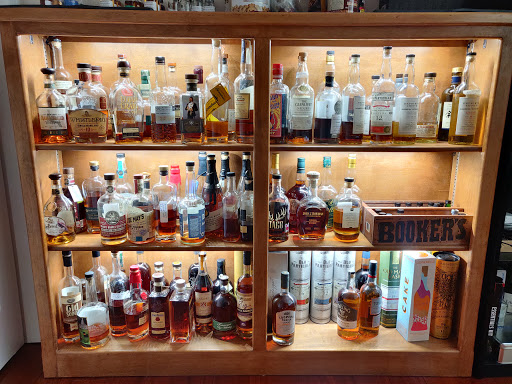 The format is: Distillery — Age — Notes
Notes on uniqueness:
Some of the bottles are inherently single cask or cask strength.
Any Store Pick (SP) is likely to be single cask and/or cask strength.
Most of the SP bottles will have bottler's name if appropriate, I'll skip the minutiae of cask numbers.
I'll take my best guess at the age whenever possible
I'll underline bottles that are of interest to me
Where available: XBC — Bourbon Cask. SHC — Sherry Cask.
Open Bottles
Open Malt:
Barrell — 3.5-10 — American Vatted (Blended) Malt, 59.11% — Needs Review
Blue Spot — 7+ — 2020 Release
Clynelish — 20 — Signatory Vintage, 1996, Cask# 8789, Binny's SP
Corsair Triple Smoke — 1– American Malt, Eureka Pick
Dailuaine — 12 — K&L SP, Old Particular, Bottled 2019, SHC
Dalmore — 13 — K&L SP, Spooned, Hepburn's Choice, Bottled 2020, XBC
Edradour — 10 — Signatory, 700ml, SHC
Fettercairn — 10 — Clan Denny, Single Cask, XBC
Flaming Heart (Compass Box) — N/A — Peat, 2015 Limited Edition
Glen Garioch — 10 — K&L SP, Old Particular, Bottled 2020, XBC
Glendronach — N/A — Portwood
Glenfarclas — 18 — Distillery Bottling, EU version, SHC

Glenfiddich — 23 — K&L SP, Spooned, Hepburn's Choice, Bottled 2020, SHC

Glentauchers — 8 — Exclusive Malts SiB, SHC
Johnny Walker — N/A — Green Label, Regular
Lagavulin — 16 — Peat, Regular
Laphroaig — N/A — Heavy Peat, Cairdeas Triple Wood, 2019
Loch Lomond — 12 — Regular

Kavalan — ~8 — SFWBSS Pick, Golden Gate Sunset, SHC

Mortlach — 13 — K&L SP, Spooned, Hepburn's Choice, Bottled 2020, XBC
North British Single Grain — 30 — K&L SP, Old Particular, Bottled 2018, XBC
Royal Brackla 2007 — 11.5 — Signatory, Refill SHC
Starward — 4 — SFWBSS Pick, Red Wine Cask #10608
Stranahan's — N/A — Rum Cask Distillery Exclusive, 45%
Tamdhu — 19 — K&L SP, Old Malt Cask, Bottled 2018, XBC
Tobermory — 22 — K&L SP, Old Malt Cask, Bottled 2018, 3rd fill SHC
Tomatin — 12 — Haskell's SP, Single Cask, Bottled 2014, XBC
Waterford — 3.9 — Organic Gaia 1.1, https://beta.waterfordwhisky.com/teireoir/organic-gaia-1-1
Westland Single Malt — ~3 — Cask #430, Heavy Peat, First fill XBC
Westland Single Malt — ~3 — Cask #2479, Unpeated, Pedro Ximenez SHC
Westland Single Malt — ~3 — Cask #3240, Heavy Peat, First fill XBC
Open Bourbon Whiskey:
1792/Barton — N/A — Full Proof, Jackson's SP. Single Cask
Bardstown Fusion — N/A — Series #1
Booker's — 6.5 — 2018-02 Backyard BBQ
Booker's — 6.5 — 2018-01 Kathleen's Batch
Clyde May's — N/A — Ledger's SP (MGP)
Clyde May's — N/A — SFWBSS SP (MGP)
Eagle Rare — 10 — Regular
Elijah Craig Barrel Proof — 12 — Batch B520
Elijah Craig Barrel Proof — 12 — Batch A121
Henry McKenna — 10 — Single Barrel, BiB, Barrel 7965, 2-2-2010
Jefferson's Reserve — N/A — Very Old Small Batch, #279 — Free to good home
John J. Bowman Bourbon — N/A — Single Barrel, 100 proof
Knob Creek — 15 — K&L SP, Distilled 2004

Little Book Chap 3 — N/A — The Road Home

Little Book Chap 4 — N/A — Lessons Honored
Maker's Mark — N/A — 2019 RC6, Limited
Maker's Mark — N/A — 2020 SE4xPR5, Limited
Nassif Family Reserve — N/A — Batch #7, American Whiskey/MGP Blend
NULU — 5 — Butcher & Booze SP. (MGP)
Old Carter Kentucky Whiskey — N/A — Batch #1
Old Forester 1920 — N/A — Prohibition Style, Regular
Old Forester — N/A — SFWBSS Pick, 128.0 Proof
Old Forester — N/A — Cask SP. 90 proof
Russell's Reserve — ~10 — El Cerrito Liquor SP. Muscles & Russell's, Warehouse E
Saint Cloud — N/A — Single Barrel, Mercury, 119.2 proof
Smoke Wagon — N/A — Unfiltered/Uncut (MGP)
Smooth Ambler Old Scout — 5 — MGP, K&L SP, #23858 (MGP)
Smooth Ambler "Old Scout" — 5 — Prav Saraff SP (MGP)
Stagg Jr — N/A — Batch 14
Weller — N/A — Special Reserve

Weller Full Proof — 6.5 — PlumpJack 3 Barrel Blend

Wild Turkey Kentucky Spirit — 9 — Eureka SP
Wild Turkey Rare Breed — N/A — WT-03RB 108.2 Proof
Wilderness Trail — 4.9 — Park Plaza & Deli SP, Family Reserve
Woodford Reserve — N/A — Distiller's Select, Batch 0611
Open Rye:
Catoctin Creek — 1.7 — D&M Wines and Liquors SP, Cabernet Wine Cask — Free to good home
Cat's Eye Tennessee Rye — 5 — Dickel Rye, 45/178, Bottled 2019
Domaine des Hautes Glaces — ~5 — French 100% Malted Rye — https://www.klwines.com/p/i?i=1515177
Masterson's — 10 — Batch PSH4, Hungarian Oak
Mammoth — 16 — Prav Saraff SiB Rye, Canadian Rye, aged last 3 years in MI
Old Potrero — N/A — Straight Malt Rye, Port Finish
Sonoma Rye — N/A — Regular — Free to good home
Whistlepig Single Barrel Rye — 17.5 — KnL SP, Swine Merchants. #20201
Whistlepig Single Barrel Rye — 17.5 — KnL SP, Swine Merchants. #20209
Willett Estate Rye — 4 — Proof 107.6, Bottled 2019
Wright & Brown Rye — N/A — Batch 003
Open Other (incomplete):
Decourtet — VS — Cognac
Icarus American Brandy — 5 — Germain-Robin, Distilled 2013
La Luna Mezcal — N/A — Lot 19
Closed Bottles
Malts:
Allt-A-Bhainne — 23 — K&L SP, Old Particular, Bottled 2019, XBC
Ardmore — 21 — K&L SP, Old Malt Cask, Bottled 2018, XBC

Arran, Lochranza Castle — 21 — Explorers Series Vol. 2, SHC

Arran — 10 — Master of Distilling 1, XBC
Auchentoshan — 21 — Berrys' SP, Bottled 2016, XBC
Auchroisk — 25 — K&L SP, Old Particular, Bottled 2019, XBC
Auchroisk — 19 — Trader Joe's SP/Alexander Murray Single Cask, XBC
Balblair — 13 — K&L SP, 2006 Vintage, SHC
Balblair — 15 — Regular Release, SHC
Balvenie — 14 — Caribbean (Rum) Cask, Bottled 2016

Balvenie — 26 — Spooned Balvenie, K&L SP, Hepburn's Choice, Bottled 2018, XBC

Balvenie — 28 — Spooned Balvenie, K&L SP, Hepburn's Choice, Bottled 2020, XBC

Ben Nevis — 18 — K&L SP, Old Particular, Bottled 2019, XBC
Benriach — 21 — Rum Cask, K&L SP, Chieftain's, Bottled 2019
Benrinnes — 15 — K&L SP, Old Particular, Bottled 2019, XBC

Bimber — N/A — K&L SP, Cask 45, Bottled 2020, SHC

Blair Athol — 23 — K&L SP, Old Malt Cask, Bottled 2018, SHC
Blair Athol — 12 — K&L SP, Sovereign, Bottled 2021, SHC

Bunnahabhain — 30 — K&L SP, Old Particular, Bottled 2018, SHC

Cambus Single Grain — 35 — K&L SP, Old Particular, Bottled 2018, XBC

Cameronbridge Single Grain — 27 — K&L SP, Old Particular, Bottled 2019, SHC

Clynelish — 23 — K&L SP, Signatory, Bottled 2019, SHC

Clynelish — 14 — K&L SP, Gordon & MacPhail, Connoisseur's Choice, Bottled 2021, SHC

— https://www.klwines.com/p/i?i=1543567
Craigellachie — 16 — K&L SP, Old Particular, Bottled 2019, SHC
Craigellachie — 21 — K&L SP, Distiller's Art, Bottled 2017, SHC
Dailuaine — 12 — K&L SP, Old Malt Cask, Bottled 2018, SHC
Dailuaine — 22 — K&L SP, Spooned Old Malt Cask, Archiestown Adjacent, Bottled 2020, XBC
Glenallachie — 10 — Batch 5, Cask Strength, SHC
Glenallachie — 19 — Hart Brothers, Bottled in 2015, 700ml, SHC

Glenfiddich — 23 — K&L SP, Spooned, Hepburn's Choice, Bottled 2020, SHC

Glen Keith — 24 — The Munros, XBC
Glen Moray — 23 — K&L SP, Old Malt Cask, Bottled 2018, XBC
Glenfarclas — 28 — K&L SP, Spooned, Hepburn's Choice, Bottled 2020, XBC
Glengoyne — 21 — K&L SP, Old Malt Cask, Bottled 2018, XBC

Glenlivet — 19 — K&L SP, Signatory, Bottled 2015, SHC

Glenmorangie — N/A — "A Tale of Cake", Tokaji Dessert Cask
Glenrothes — 12 — K&L SP, Old Malt Cask, Bottled 2018, SHC
Glenrothes 1985 — 20 — Bottled 2005, SHC
Glenturret — 28 — K&L SP, Old Particular, Bottled 2016, XBC
Inchgower — 22 — K&L SP, Sovereign, Bottled 2021, SHC
Hibiki — N/A — Japanese Harmony
Invergordon Single Grain — 31 — K&L SP, Sovereign, Bottled 2018, XBC
Kirkland Speyside — 22 — Bottled 2020, SHC
Linkwood — 27 — K&L SP, Spooned Old Malt Cask, Bottled 2020, XBC
MacDuff — 14 — Cooper's Choice, Bottled 2018, 1st fill SHC
MacDuff — 21 — K&L SP, Hepburn's Choice, Bottled 2018, XBC
MacDuff — 20 — Trader Joe's SP/Alexander Murray Single Cask, XBC
Mortlach — 15 — Game of Thrones, Six Kingdoms Edition (SHC+XBC)
Mortlach — 12 — K&L SP, Sovereign, Bottled 2021, SHC
Nikka from the Barrel — N/A — Regular

Port Dundas Single Grain — 28 — K&L SP, Sovereign, Bottled 2018, XBC

Speymhor Blended — 38 — Blend of two barrels from 1978, XBC + SHC

Strathclyde Single Grain — 30 — K&L SP, Old Particular, Bottled 2018, XBC
Teeling — 14 — Carcavelos Cask (White Port) Single Malt, Bottled 2016
Thompson (Redacted) Bros — 19 — Thompson/Dornoch Blend, Distilled 2001, 700ml; SHC

Westland Single Malt — 5.5 — Cask #2631, 1st Fill Oloroso SHC. Bottled 2020, Hand-filled

Westland Single Malt — ~4.5-5 — Silver City Cask Exchange, Beer Cask
Westland Single Malt — ~4.5-5 — Garryana 5th Edition, Slightly Peated, New Oak
Westland Single Malt — ~4.5-5 — Holy Mountain Cask Exchange, Beer Casks
Bourbons or Whiskey:
Barrel Bourbon — 10+ — Batch 21

Barrell Bourbon — 18 — K&L SP, Single Barrel, A111
Barrell Dovetail 2019 — N/A — Rum, Port & Cabernet Finish
Eagle Rare — 10 — Eureka SP
E.H. Taylor Small Batch — N/A — BiB
Four Roses Barrel Proof — 12 — K&L SP, OESF
George Dickel Single Cask — ~15 — K&L SP, Bottled 2019

George T. Stagg — N/A — BTAC 2019

High West Campfire — ~2 — Carcavelos (White Port) Cask, K&L SP
Knob Creek Single Barrel — 15 — K&L SP, Bottled 2020
Knob Creek 2001 — 15 — Batch 3, Bottled 2016
Pinhook — 3+ — High Proof Edition
Prideful Goat (Heaven Hill) — 15 — Private cask bottling
Remus Repeal Reserve V — 12+ — Blend of 12+ year old MGP
Russell's Reserve — ~10 — Hard Water/Ledger's SP, Rickhouse H

Shenk's — N/A — Batch 20F1428

Smoke Wagon — 8 — K&L SP #314 (MGP)

Stagg Jr — N/A — Batch 13

Stagg Jr — N/A — Batch 15 (65.55%)

Weller 107/Antique — N/A — Regular
Weller 107/Antique — N/A — California Food Mart SP
Woodinville SiB — N/A — Hi Times SP, Cask Strength
Rye:
E.H. Taylor Straight Rye — N/A — BiB
Laws Straight Rye — ~7 — K&L SP, #504, Malted Rye
Old Pepper Rye — N/A — PX Finish, Hard Water/Ledger's SP, Bottled 2018

Old Potrero "Barrel #13" Rye — ~7 — K&L SP

Smooth Ambler Old Scout Rye — 4 — 121.6 proof. Single Barrel MGP
Others of Note:
Domaine de Pouchegu — 39 — Armagnac, K&L SP, https://www.klwines.com/p/i?i=1501919
Pellehaut Armagnac — 30 — K&L SP, Bottled 2016
—
Top Lists
Top Malt:
Top Bourbon/Rye Whiskey:
Booker's 2018-01 Kathleen's Batch
Old Carter American Whiskey 12, Batch 3
Old Rip Van Winkle (Pappy 10)
Old Potrero "Barrel #13" Rye K&L SP
Smooth Ambler Old Scout ( 5 y/o MGP pics from 2020. ie: Plumpjack)
Stagg Jr Batch 13 (but I hear Batches 10+ are all good)
Shenks 2020
Untitled 14 yr MGP 72.5% Private Cask #13 Prav Saraff Pick